I found a great article on
renewables in Germany
. Their attitude is in sharp contrast with a local group in Reading.
The article is from the Global Arab Network. It says something when a region famous for fossil fuels is looking to the future.
Renewable energy had passed a critical threshold, with Germany nation taking another step in the transition from nuclear and coal to renewable energy. This came seven months after Germany had received an unusual Christmas present. Heavy winds on December 26 delivered free electrical energy, and wind turbines produced up to 20.100 megawatts of power, pushing the price for electricity into the negative: It cost up to 20 cents per kilowatt hours to produce power. Coal plants had to pay for power instead of selling it.

The two days sent a signal – the goal of providing Germany with 100 percent renewable energy is reachable.

For decades the environmentalist movement, blossoming wind and solar industries, as well as Germany's Green Party dreamed of switching completely to renewable energy. Now political support reaches across the political spectrum. Even the conservative minister for the environment, Norbert Röttgen of the Christian Democratic Union, supports it.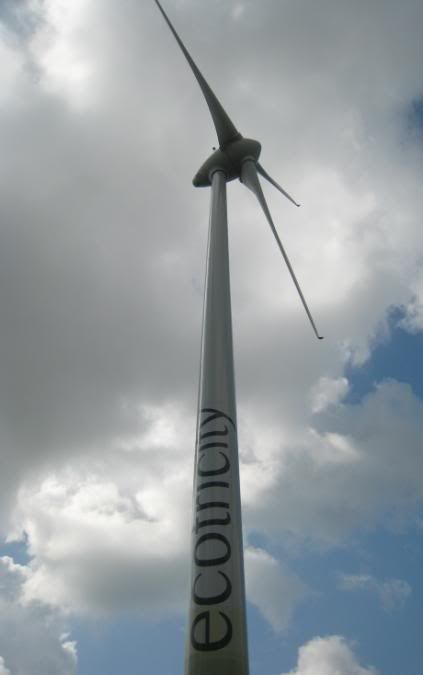 Unlike our
Conservatives
, who like
Labour
and the
LibDem
are very mixed up.
In Reading Partnerships for Renewables has teamed up with the University of Reading to produce plans for four wind turbines at Rushy Mead, which is between Arborfield and Lower Earley.
A small number of residents are concerned about the
visual and noise
impact on house prices the turbines could cause.
Visit www.rushymeadharm.org for the NIMBY view. And leave a comment of their message board.
See
also here
and
here
.
Germany 100 Percent Renewables by 2050
.
And
this book
.