Its not quite the game Harry Potter plays, but
Quiddich
has taken off in the muggle world. There is no flying, but a combination of dodgeball, basketball & tag.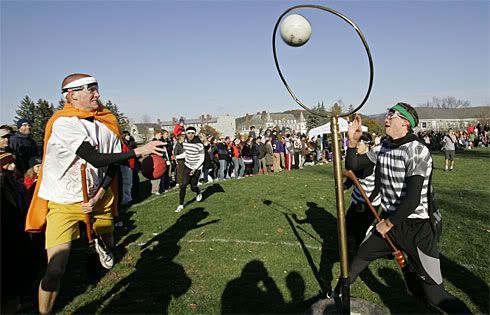 The bludgers are used like dodgeball, the Quaffle is a volleyball, the snitch is a sock stuffed with a tennis ball. So the chasers play voleyball, the beaters dodgeball, the keeper guards the hoops and the seekers plays tag. Sounds a mite
confusing
.
Its played around the world,
USA
,
Canada
,
Australia
.
Like the other world cup, football, Quiddich started in
England
. But I'm not sure its been played here yet.
Meanwhile in South Africa the World Cup continues.
With all the talk of cutbacks, I wonder how few are mentioning the Salary of the England manager. Fabio Capello gets £6 million a year, his predecessors got half that. Then theres the Olympics, why not cut some of the excess there, and leave things like education alone.
Sir Alf
Ramsey
got £7,500 in 1974. Don Revie was subsequently appointed on £25,000 a year as salaries for managers gradually rose over the next two decades. Terry Venables was understood to be on around £150,000 as England manager in 1996, followed by Glenn Hoddle on approximately £250,000 and then Kevin Keegan on an estimated £650,000. This changed with Sven-Goran Eriksson who was paid £2 million when first appointed in 2001. Steve McClaren got £2.5m-a-year.
For an
International Comparison
:
- Fabio Capello (England): 9,900,000 USD/year
- Marcelo Lippi (Italy): 4,100,000
- Javier Aguirre (Mexico): 4,000,000
- Joachim Löw (Germany): 3,300,000
- Berter van Marwijk (Netherlands): 2,700,000
- Ottmar Hitzfeld (Switzerland): 2,600,000
- Vicente del Bosque (Spain): 2,200,000
- Carlos Queiroz (Portugal): 2,000,000
- Pim Verbeek (Australia): 1,820,000
- Carlos Parreira (South Africa): 1,800,000
- Dunga (Brazil): 1,250,000
- Diego Maradona (Argentina): 1,200,000
- Takeshi Okada (Japan): 1,200,000
- Ricki Herbert (New Zealand): 1,200,000
- Otto Rehhagel (Greece): 1,150,000
- Paul Le Guen (Cameroon): 960,000
- Marcelo Bielsa (Chile): 850,000
- Vahdi Halilhodzic (Cote d'Ivoire): 740,000
- Raymond Domenech (France): 720,000
....
- Shaibu Amodu (Nigeria): 180,000