In the realm of nutty ideas, storing nuclear material in a city is a doozy. Yet
Devonport
Dockyard stores old nuclear submarines.
Its amazing that nuclear subs are stored in the city of Plymouth. Near 250,000 people live near a facility that refits, maintains and upgrades the nuclear submarines that carry Trident nuclear missiles. It is also increasingly becoming the dumping ground for old and out-of-service submarines. Plymouth is being paid for its role in the servicing of Britain's weapons of mass destruction by becoming the '
Sellafield of the South West
'.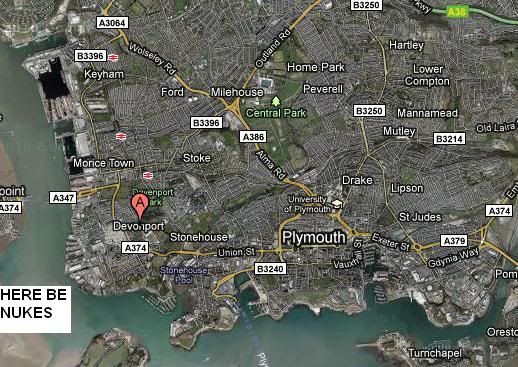 A decade of
Trident Ploughshares
blockades and disarmament actions have helped build a strong and broad movement against nuclear weapons in Scotland.
Living in Reading (145,700) I find it astonishing that AWE nuclear bomb factory is around 12 miles; though the more secret
Burghfield
is only 5 miles away. Faslane submarine base is around 25 miles from Glasgow (1,200,000).
But Devonport nuclear submarine base is 25 metres from residential areas of Plymouth (250,000).
The Scottish government was elected with a policy of nuclear disarmament. Now it's our turn.
Links:
CND briefing about Devonport
Facebook event:
blockade
1st November
trident ploughshares
www.cnduk.org
list of sites
here