We had a demo at the Civic Centre this evening,
before
the meeting of the full council; against the cuts to public services which have been announced.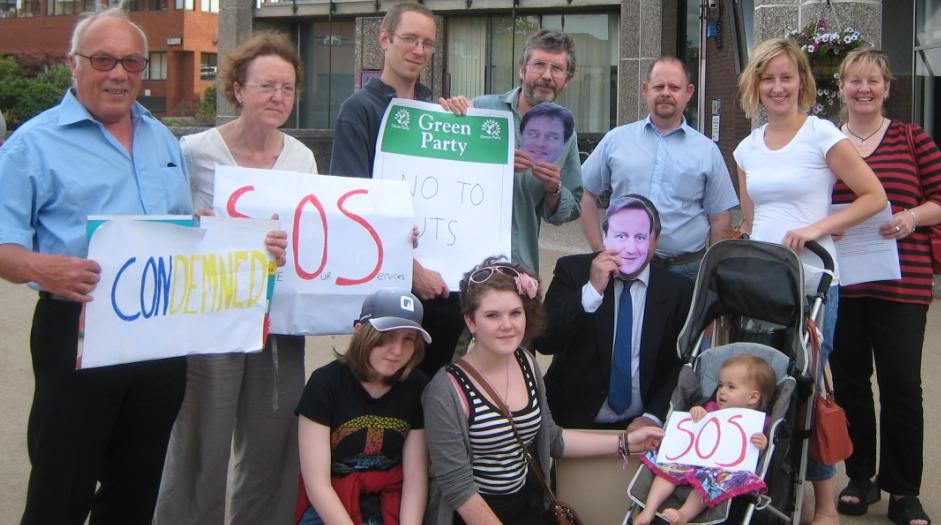 In response to the Chancellor's Emergency Budget announcement on Tuesday, Green Councillor Rob White said:
"We are gravely concerned to see so many wide-ranging cuts to public spending from the Conservatives and Liberal Democrats. The effects of today's announcement will have a massive impact on local government and communities, as we warned a few weeks ago.
"The enforced freeze on council tax is a crude attempt by central government to shift the blame for soon-to-be disappearing public services onto local government. Not only is the Government desperate to avoid criticism for their own ruthless economic policy, but they're limiting the flexibility for local councils such as Reading to be able to manage fairly the cuts central government is demanding.
"We are asking the local Conservatives and Liberal Democrats 'What public services will you throw away? Education? Care? Housing?'.
"We need to fight these cuts which will hit the most vulnerable hardest. To do this we need a broad coalition locally and nationally. This demonstration will bring people together in Reading and kick start the fightback."