On so many issues its difficult to tell the big three parties apart. Today they all agreed with the need for a new Bridge across the Thames. Where is the choice for voters? The Greens are the only ones against spending vast sums on new roads and airport expansion.
Conservative Rob Wilson said a
bridge was a priority
for a Tory government. Liberal Democrat Gareth Epps wants to secure government money for the scheme. Labour's Anneliese Dodds said her party had already brought a number of transport schemes to Reading. (Mostly deeply unpopular)
When Labour were in opposition in the late 90s they were against the Tory predict and provide. When they got into power Deputy Prime Minister John Prescott
promised in 1997
that there would be "far fewer" cars on the road within five years. The Blair government since 1997, performed a perfectly-executed U-turn on road-building, and hopes that the new government might deliver a sustainable transport system have been dashed. So what difference is there between the big parties on transport? Not much.
The Third bridge has been delayed for about 80 years for a reason; while Sonning, and parts of Reading want it, Oxfordshire does not. There MP remained silent on the issue. Last year Oxfordshire said it was considering one
exclusively
for cyclists, pedestrians and public transport.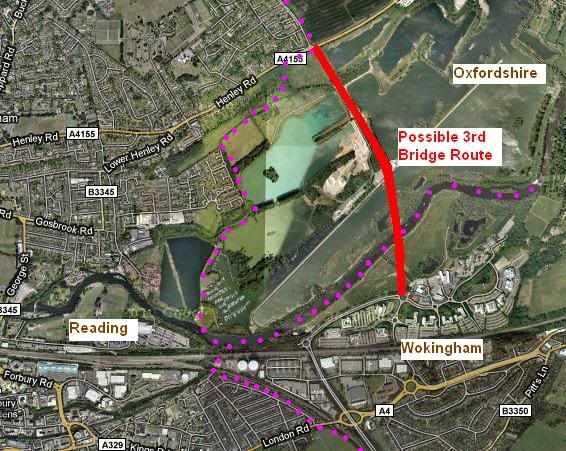 As you can see from the map, the possible route shown will go through some unspoilt beautiful land that isn't even in Reading, it would need Oxfordshire and Wokingham to agree before it happened. Meanwhile the cost of public transport gets more expensive, and more people use cars.
Reading Green Party support sustainable transport,
not
a
never
ending cycle of road construction.