Despite receiving over 1400 letters of objection, West Berkshire Council has decided to grant planning permission to the Atomic Weapons Establishment for a new Enriched Uranium Facility.
Aldermaston AWE tonight got the decision it wanted at West Berkshire Council meeting tonight at the Eastern Area Planning Committee
meeting
at the Calcot Centre, Reading. They gave Project Pegasus the go ahead; it is designed for storage and handling of enriched uranium close to the centre of AWEs Aldermaston.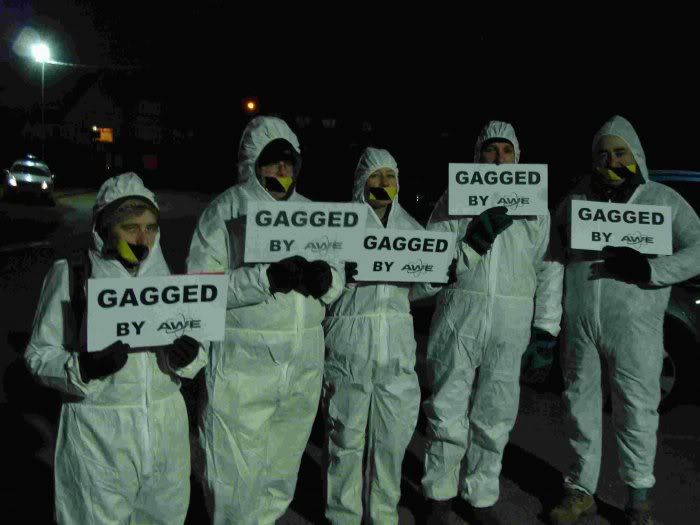 Aldermaston is currently the scene of what its owners describe as the
largest
building programme in Britain, equivalent to the construction of Heathrow's Terminal Five. But although the taxpayer is funding this massive project, we have no clear idea of exactly what they are doing there, or how dangerous it is for the nearby towns and villages.
A couple of years ago they passed Orion (£100 to £180million). It has a Laser that can to concentrate energy similar to the conditions at the centre of the sun on a target the diameter of a human hair.
Also Gemini, two hi-tech office blocks that will house up to 1,400 AWE staff (£100million).
Project Pegasus will cost an estimated £500 million to build.
From the names they are choosing; I expect the will soon dispatch
war rocket Ajax
.
The Tory Cllrs on the planning committee hardly questioned Project Pegasus, they proposed, seconded and all voted for it. Most of the Lib Dem Cllrs also voted for it. One of them voted against, so it passed 8 to 1. Cllr Alan Macro was the LD who voted against, respect to him for going against the rest of them. He questioned why as they were replacing an older building they didn't move it further from residents, which got a cheer. Its not much, but it was a ray of hope compared to the rest of the evening.
Lib Dems are against Trident replacement, but not against nuclear weapons. So its a bit confusing to know where they stand on AWE.
At a time of recession, where government departments are strugling to find money, when the big parties are competing to see who can cut spending, why are we throwing money at AWE?
And it is unpopular with locals; Nuclear Information Service
NIS
have conducted a
survey
.
• 61% of local people are opposed to AWE's Project Pegasus (£500 million).
• Over 70% of those asked had not heard about the project before being approached to
complete the survey.
• Over 60% of those who were surveyed believed that the facility should not be built.
• Over 90% of respondents felt that information about environmental and safety impacts
should be made publicly available before permission to build is given .
NIS
Director Peter Burt said: "It's disappointing but not surprising that this development was permitted given the very close relationship between West Berkshire Council and AWE.
Concerns about consultation standards were raised in many of the objections to the planning application, and also by neighbouring Basingstoke and Deane and Reading Borough Councils.
"West Berkshire Council likes to pretend that planning applications submitted by AWE are treaed the same as those submitted by anyone else, but no-one else would be allowed to submit a planning application for a factory handling radioactive substances and hazardous chemicals without giving a copper-bottomed explanation of how they intend to manage the risks and guarantee safety."
Update:
getreading
Reading Chronicle
'West Berkshire Council received almost 1,500 letters of objection as well as opposition from Reading, Basingstoke and Deane and Slough borough councils. A lack of information and consultation were some of the main concerns.'
Newbury Today