Once again Reading has become well known for the wrong reasons. Last month it was all those abandoned cars, this time, an ASBO for photographer who snapped grafitti 'art'.
A photographer who snapped Banksy-style images has been given an ASBO last month after he was deemed a nuisance. But an impressive selection of art lovers – including a curator from the Tate Gallery in London and the authors of a heavyweight New York art book – gave references in favour of East Reading's James Matthews. The judge dismissed a number of criminal damage counts against Matthews and instead decided he should get a two-year ASBO. Judge Reddihough, sentencing, said: "I have seen a number of examples of the graffiti. It may well be that some sort of graffiti could come into the class of a work of art."
To be fair it seems he trespassed on roofs and railway property to take the pictures, and the ASBO related to this. There seems to be no evidence that he encouraged any damage to property.
At the Banksy
forum
, contributors have picked up on the
headline
ASBO for photographer who snapped grafitti 'art' headline.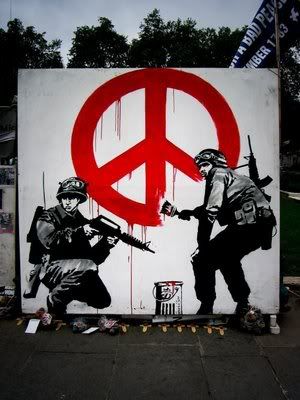 There is a trend for people being
arrested
for taking pictures, I was stopped at AWE Aldermaston a couple of years ago and the police made me delete a couple of pictures from my camera. They were taken from the public road I hasten to add. I didn't want to be arrested, so I complied. But later I took a few more.
When the police stop you these days, they have to fill in a form. In order to comply with regulations they ask you for your background, so this gives some people small amount of pleasure to make up something amusing. I wonder how many of those questioned are actually
Jedi
. Its easier to spell than Wookiee anyway.