For the last couple of weeks I've been in Italy (though not by flying); here are some highlights.
The residents of Bologna take their food seriously and expect only the best at their markets. The colors, freshness of the produce and smells wafting from various shops will affect you. I went
WOOFing
there a few years ago, and was eager to return.
Then there was the historic Tuscan Town San Gimignano where the Historic Centre is a UNESCO World Heritage Site. It was an Etruscan village in (200-300 BC) but flourished as a medieval town.
San Gimignano was full of tall towers built by competitive and quarrelsome Tuscan families. Warring, the Black Death and the aggression of nearby Florence put a halt to the town's progress, and it remained a memorial to its 11th-13th century prosperity. There were once an incredible 72 towers rising above the town's rooftops. There are fewer towers nowadays, but the fourteen remaining are still impressive in the misty distance.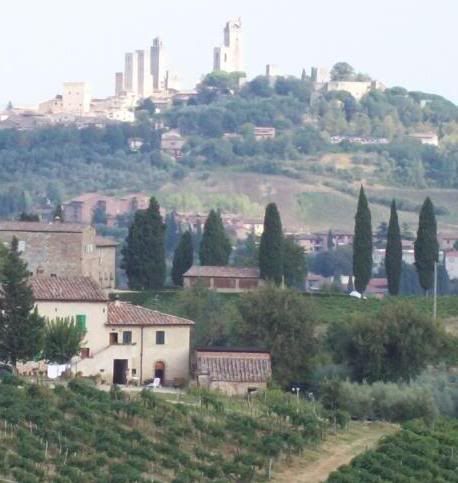 People can get married there in a room used by the Dante Alighieri in 1300; he came to San Gimignano as the Ambassador of the Guelph League in Tuscany. The walls are covered in frescos (Lippo Memmi 1317) So you can't use flash photography; the furniture is too ancient to sit on so you have to stand. But the ceremony is conducted by the Mayor!
Slow Food Bologna Market
www.deliciousitaly.com
San Gimignano
San Gimignano history
Wedding Italy