As part of a Heritage Weekend with several buildings open.....
Green Park and Turbine Talk and Tours, Green Park, Reading, Berkshire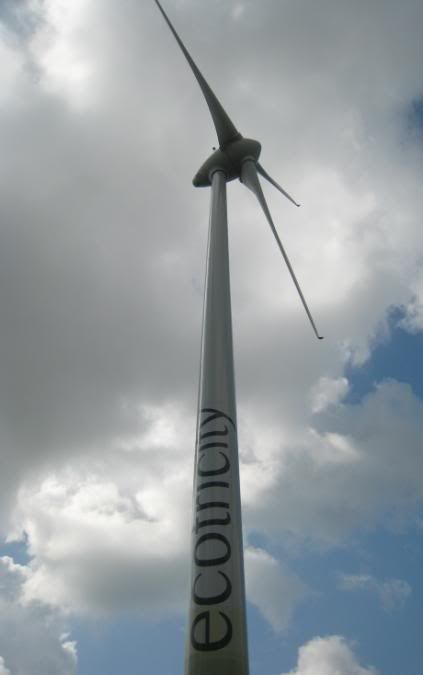 Be sure to book your place on this exciting talk and tour of one of
Reading's most prominent landmarks. The children's tours will encourage them to talk about Global Climate Change and where we usually get our energy from and will also feature an interactive session at the base of the turbine where the children can get involved with a couple of experiments to reinforce what they have learned from the talk. Opening Times
Thursday 9th September: Children's session 1630-1800
Saturday 11th September: Adults' session 1430-1600
Pre-booking is essential. Call 0118 937 2373.
Great news
as Britain's wind farms generated record levels of power on Monday, providing 5 per cent of all power supplied to the National Grid over course of the day. The Grid confirmed that 40.5GWh out of a total 809.5GWh was provided by wind farms over the 24-hour period, with wind output peaking at 1,860 megawatts at 8.30pm.
RISC roof garden
is open 12:00 until 16:00 on Saturday 11th September 2010
Sonning Exposed! A Heritage Trail: Open Day
Thameside villages of Sonning & Sonning Eye has a walking trail is ideal for all the family. Alternatively there will be one guided tour of Sonning starting from the St Sarik Room at 1400. Booking will be required for this.
Sun 12 Sep:1330-1600, Tour 1400. St Sarik Room, St Andrew's Churchyard, High Street, Sonning Berkshire RG4 6UP.
Wokingham Town Hall is a fine Victorian Grade II* listed building which was opened in 1860 in Gothic design. On Saturday 11 September, the market traders are being invited to enter a 'best dressed Victorian trader' competition. Sun 12 Sep:1100-1600. Free Entry. For more information and last-minute updates, please visit the
Heritage Open Days website