Yesterday I went to see the beautiful old Sarum. Located on a hilltop north of Salisbury, Old Sarum is the site of the original city, showing evidence of habitation from 3000BC to 1219AD when the bishop relocated Salisbury Cathedral.
I was lucky enough to be there the same time as a tour, so I enjoyed that.
Unfortunately a couple of small planes kept flying round in cirles over the ancient monument, so it was rather difficult to hear.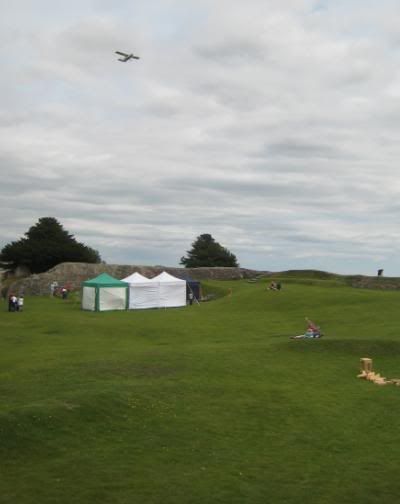 You can see in the
picture
and
video
just how close they flew to us.
Millions of people are disturbed by aircraft nois and it will get
worse
Aircraft Noise 71% had heard it
Traffic Noise 84% " "
Neighbour Noise 81% " "
Bothered, annoyed or disturbed by it:
Aircraft Noise 20% bothered to some extent
Traffic Noise 40% " " "
Neighbour Noise 37% " " "
Aircraft Noise 7% bothered moderately
Traffic Noise 22% " " "
Neighbour Noise 19% " " "
Aircraft Noise 2% very or extremely bothered
Traffic Noise 8% " " "
Neighbour Noise 2% " " "
• Figures from the 2001 National Noise Study carried out by the Building Research Establishment (BRE) for DEFRA – the most comprehensive study of recent years.
This survey is for flights carrying people from A to B, the annoying plane above appeared to be flying in circles.
Airportwatch recomend that complaints about noise, or of planes away from set flight paths, complain to the local
airport
management, in this case Old Sarum Airfield, about a mile away.
Send a copy to the DfT: aed@dft.gsi.gov.uk, airports@dft.gsi.gov.uk, Department for Transport, Great Minster House, 76 Marsham Street, London, SW1P 4DR
Please copy your letter to AirportWatch (info@airportwatch.org.uk). AirportWatch, 2nd Floor, Broken Wharf House, 2 Broken Wharf, London EC4V 3DT
One of the reasons I posted about google maps images yesterday was that I had just been to see Old Sarum. I was in the area as I had been to a meeting about the Equaualities trust, about which more will follow.