I have been watching the
Live Aid
doc on BBC4. What a shame it has taken so long to see
this
on TV.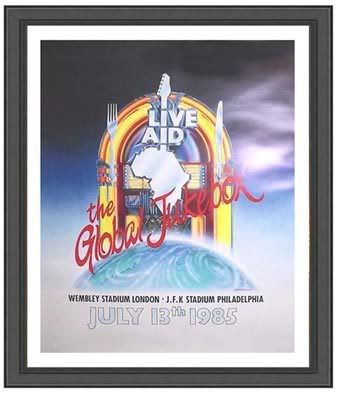 It reminds me just how different the technology was then. It was before videos were common, my family didn't have one. We only had the one radio with a tape recorder, so I sat by that, putting in a new tape every 45 minutes for 16 hours on the 13th July 1985. Now 25 years later its enough easy to record TV or Radio for hours on end.
Funnily enough we lived near Wembley Stadium, I could see it from the window. That was in the days when the Stadium had the twin towers, long since knocked down, shame. The Stadium was one of the few parties that insisted on being paid on a day when everyone else was giving their time and services for the cause.
The documentary last night showed the criticism from the BME media that there were so few black performers. But rather than a conspiracy, it seems black singers had for their own reasons turned them down.
There was also a lot about arguemts on the day. Midge Ure was co organiser with Bob Geldof, but always seemed slighted. His then partner had a long list, but Bob was so stressed and busy it could easily not have been deliberate. Led Zeppelin performed with Phil Collins in Philadelphia, and they thought is was so bad they have resisted attempts to broadcast it since then. Huey Lewis and the News and Paul Simon both accepted requests to play the Philadelphia concert but later issued press statements stating they had chosen not to appear after all, citing disagreements with promoter Bill Graham.
Several bands had split up, or were going to, but reformed for this. Queen, the Who, Crosby, Stills, Nash & Young, the original Black Sabbath with Ozzy Osbourne. It was the first performance of Paul McCartney after John Lenons death in 1980.
You can still donate to
Band Aid Charitable Trust
.