Against the traditions of tolerance that Britain is famous for, Tory MP Philip Hollobone wants a Nanny state that will tell us what we are allowed to wear.
He says he wants to Ban the burka as he likes to look at peoples faces. Many people are now ashamed that he is representing them in Parliament. Will he next want us all to wear suits? Must we all ask him what to wear every morning?
He said ''I think it's inappropriate to cover your face in public, whether it's a burka, a balaclava or anything else. We are never going to get along with having a fully integrated society if a substantial minority insist on concealing their identity from everyone else.''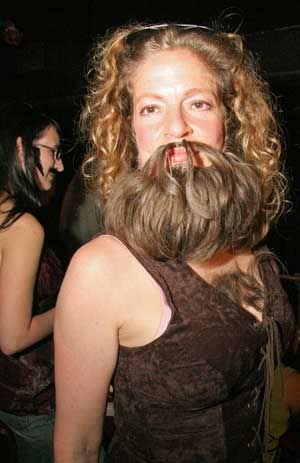 Would he prefer women to wear false beards?
Mr Hollobone has previously described the burka as ''offensive'' and ''against the British way of life''. His comments have attracted criticism but also a ''great deal of support'' from a small numner if intolerant people, such Ukip and the Bnp supporters.
The MP said the British public like to smile and greet one another in the street but ''you simply can't have that degree of interaction with people if you can't see their face''. I hope he smiles at lots of people as he gets the tube in London, people will think he is a loon, and they won't be far wrong.
In circumstances where faces need to be shown, such as to check i.d. the law already covers this. I think he is making a play for the extremist vote, the right wing supporters of Ukip and the Bnp.
In May France took its first legislative step towards banning the full Islamic veil when parliament adopted a formal resolution describing the burka as an 'affront to French values'. The non-binding measure, approved by all mainstream parties, will be followed in July by a law that will outlaw Muslim women from wearing the burka, which covers the eyes with mesh, or the niqab, a full-body garment with eye slits.

The French have many famous values, which I wont need to remind people about.

France would be the second European country, after Belgium, to declare the full veil illegal in public places.
It's been estimated
barely
100 women in Belgium use the fully-veiled Niquab, so where is the problem? It's more to do with party politics. And
Islamophobia
.
'What
about a bridal veil? Or a facecloth! Or a baseball cap pulled low over eyes. Silly France.' Indeed what about men whith beards, or people wearing dark glasses. Or facial surgery, motorbike helmets and facepaint.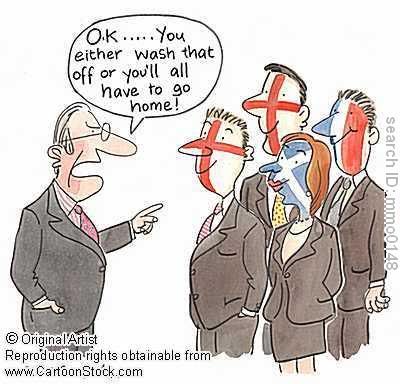 Facepaint Cartoon
Update; I had an email that said:
"the niqab is a tie on face covering and burka is the allover garment with a bit of mesh over the eyes/face. Not the other way round as stated in your blog.

I would not myself wish to wear either.

In my experience, I do not recollect meeting in Reading with anyone in a burka though I very very infrequently encounter a niqab. There are some around who wear, regularly or occasinally, a jilbab/abaya. And plenty of
hijab. And plenty who dress modestly but mostly do not cover their hair."
If the ConDems do bring in this rule, I can forsee protesters wearing face coverings. For those unwilling or unable to grow their own, you can find on ebay wigs like this.
Salma Yaqoob discusses this on the radio
here
and TV
here