What an amazing 24 hours. After years of work, slowly building up our vote, we have won two great victories.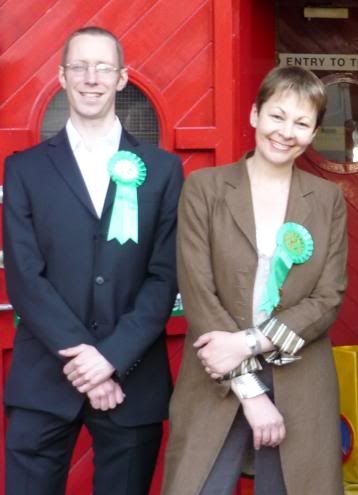 Rob White in Park Ward won the first Green Council seat in Berkshire.
Caroline Lucas has become the first Green MP, in Brighton Pavillion.
This is the fist act as a Cllr, Rob signs in to make it official.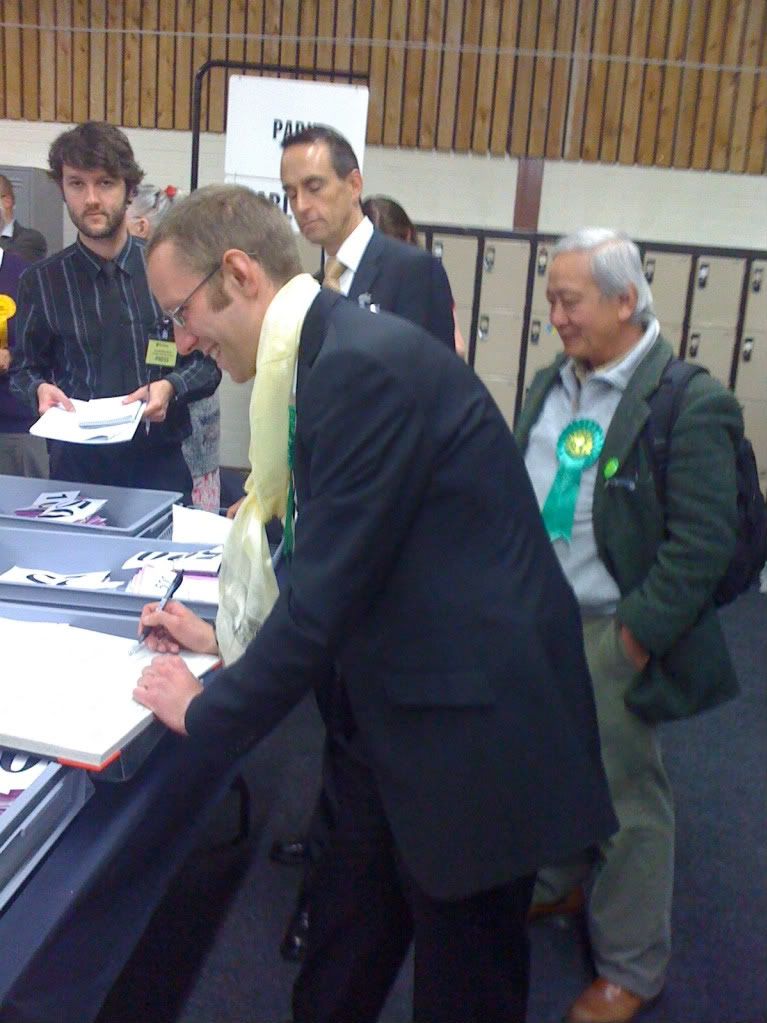 On election day, 6th May, I was working in a committee room, helping to get our vote out, from 10am till polls closed at 10 pm. Then I went to the count, someone had to be there to represent the Greens, and Rob had had a longer day than me and needed some sleep. As one of few candidates there early I had three interviews. I also ran into a friend from primary school who I hadn't seen in 33 years!
The General Election Count took all night, and the results were not so good in Reading East and West, down on 2005. The national focus on the big three parties seemed to have worked against us, though the LD didn't make the expected gains.
Rob made a speech.
The GE count finished at 7am, so home for a couple of hours sleep. Then at 11 am it was the Local Election Count in Reading, so off I went, I am agent so had to be there. That lasted till 2pm, and produced the amazing result of Rob winning in Park.
Most other politicians have been gracious in congratulating us, though there were a few people muttering. One Lib Dem told me we had done 'the double', it took me a moment to link Rob and Carolines success, but he made a good point, hence the title of this post.
So after a fantastic morning, we went for lunch at a nearby pub, the moderation. Then off to Wokingham for yet another count! This took another couple of hours. Popped into the
True Food Coop
on the way home. The new shop in Emmer Green officially opens on the 15th.
Finally I got home about 7pm, after a couple of hours couldn't stay awake any longer so had an early night. So now am catching up with the news from the rest of the world, emails, blogging and the rest.
So a big thank you to all the Green voters, we couldn't have done it without you. Similarly the many people who helped, we have built a fantastic election team over the years, and it really shows.