A few years ago, health and safety stories started to add to the tabloid familiar warning cry of "What's the world coming to?" A formula emerged – a traditional, nostalgic aspect of British life is threatened by a modern, mindless bureaucracy, says
Rob Strange
of the Institution of Occupational Safety and Health (IOSH)
You wouldn't know it from reading our newspapers but Britain has seen an 81 per cent fall in workplace deaths and a 72 per cent fall in other reported workplace injuries over the past 35 years. We benefit from having one of the best safety records in Europe. And it isn't just workers that profit from this – savings to the economy and to society from lives saved, healthier workforces and better attendance records are substantial, with some large employers estimating their savings at millions of pounds. This success story, largely untold, is partly down to the unsung heroes of health and safety, those who work so the rest of us can go home unharmed at the end of the day. But theirs isn't a sexy story. Done well, health and safety works silently, invisibly, to prevent the bad news story from happening. Good health and safety is not, by its very nature, news.
David Cameron's speech last December, called for an end to our "over-the-top" health and safety culture and for cuts in health and safety legislation. The New Year saw The Sunday Telegraph wade in with an attack on IOSH, accusing us of advising people not to grit snow and ice in public areas because they could get sued if it led to personal injury. In fact, they had provided a Telegraph reporter with an IOSH comment, encouraging businesses to grit beyond their boundaries to prevent accidents, yet this was ignored. Instead, the journalist drew on opinion from a year-old guest article, framed it in front page quotes and attributed it as an official IOSH "warning" to businesses.
This year's
cheese-rolling
event in Gloucestershire has been cancelled after concerns about safety. The competition, which dates back hundreds of years, involves participants chasing a 7lb Double Gloucester cheese down the hill in a series of races. The winner of each race wins the cheese. Cooper's Hill Cheese Rolling Committee (CHCRC) voted to postpone this year's event, there were concerns over the numbers of people, ambulance access and people damaging fences.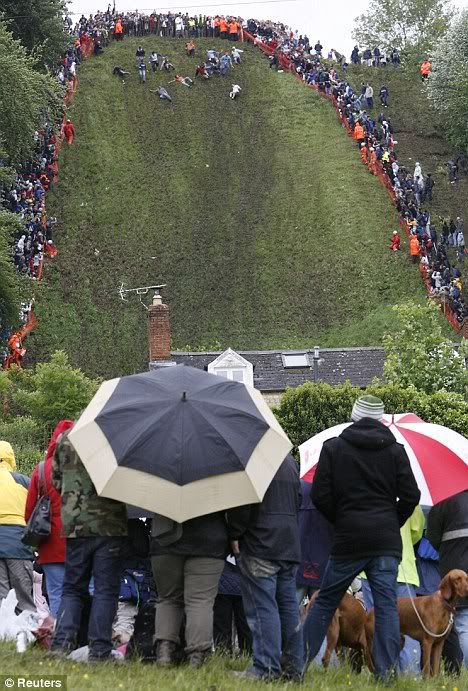 The HSE has a
myths of the month
.
I wonder how quick the tabloids would be to blame the authorities if they did nothing after people died. Just look at the current fuss about the lack of soldiers
equipment in Afghanistan
.
I work in construction, when I started in the 80s things were much more dangerous, since then things have improved and fewer
die
a year. Construction accounts for 31% of UK accidents. The most common injuries reported in construction in 2007/08 were manual handling - accounting for 29% of reported injuries to workers, and slips and trips 25%. Compared to workers across other industries, construction has higher proportions of reported injuries caused by falls from a height and moving/falling objects.
Mark Twain once said that "a lie can travel halfway round the world while the truth is putting on its shoes". It's time to call in the big health and safety lie from its travels before it leads to tragedy and hurt. And it's time to give truth a chance to put on its shoes.