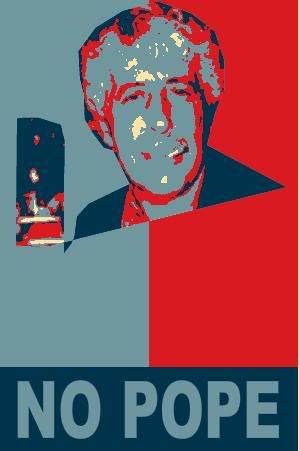 Martin Salter MP for Reading West said "There is no prospect of my ever blogging. What little I have seen of the blogsphere, it seems to me to be the last refuge for tragic insomniacs who lack social skills."
So welcome to the world of blogging Martin. You can see read it
here
His first few blogs were distinguished only in uniting his readers who comment against him. Then yesterday he decided to attack the Pope. He said the Pope was a 'hypocrite', a 'bloke in a dress', and that 'I find the hypocrisy of the Pope reprehensible'.
Only an MP that has already decided to stand down would think it clever to do this, the
millions
Catholics in this country should rise up against him.
Even before this latest outrage, Martin has been well known as a hypocrite who is quick to insult others. I have a few examples:
climate change
Calling
Polish people thieves
gurkhas
Hunting
censorship
name changes
He also campaigned to save Post Offices & then voted to close them.
And of course Iraq where he pretended to be a rebel but failed to vote.
I sum it up
here
where I state why I joined the Green Party in order to oppose him.
He had his own expenses scandal; in October 2007 Martin broke parliamentary rules, though he now claims that the complaint against him was rejected. This is a matter of public record, and I will not be silenced by him, despite his attempts at bullying; he threatened to sue me if I mention it. See
here
or
here
Some other websites/blogs on this;
Saint Mary Magdalen
,
South Wales Argus
,
Berkshire Humanists
Update
Reading Chronicle
'MP Martin Salter came under fire today'
Reading Post
'
Was
Its fine to disagree with the Pope, but not to insult him, indeed its not ok to insult anyone.
Greens including Peter Tatchell back a petition 'Protest the Pope'
here