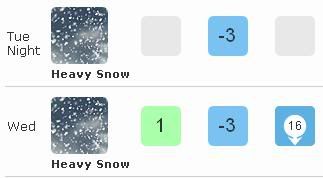 Expect heavy
snow
for a few days, so probably much of the UK to grind to a halt.
The Metoffice
say it is expected across southern areas of England, which may not yet have seen snow so far during this cold spell, as freezing conditions persist across the country. The heavy snow that has been affecting Scotland and northern England is moving south and the heaviest falls over the next 24 hours are expected across parts of central and southern England and south-east Wales.
Met Office Chief Forecaster, Tony Waters, says: "The heaviest snowfall this evening and tonight is expected across parts of Dorset, Wiltshire, Hampshire, Berkshire and Oxfordshire where fresh snowfall of 15 to 20 cm is expected widely, and locally in excess of 30 cm. This is expected to cause disruption to transport networks and could lead to problems with power supplies." Our forecasters and advisors are working closely with the Highways Agency, local authorities and Government agencies to ensure the country is prepared for the affects of the weather.
If you are worried about elderly or vulnerable people who might be in need of help during this time contact
Reading Council
on 0118 955 3621 
Wokingham Council
0118 974 6000
Vulnerable people, or their carers or neighbours on their behalf, can contact the Council's response and assessment team on (0118) 955 3600 if they have any urgent needs during the cold weather
Thames Valley Police non-emergency number: 0845 8 505 505
Reading Buses (urgent issues)  0118 959 4000
Wokingham Council offer this advice for
emergencies
. For the home; a supply of night light candles and matches, torch and batteries, battery operated radio and batteries and a stock of high-calorie food.
West Berkshire Council
reports that all 'A' roads and most 'B' roads in the district will be gritted again tonight, but that will use up all the stock of salt-grit held by the district. More stock has been ordered, and news is awaited on possible delivery of that. Mutual aid has also been requested from neighbouring authorities in the South East, however most are in a similar situation. To conserve salt stocks, and ensure those roads can be gritted tonight, it has not been possible to replenish salt bins at present. Drivers and pedestrians are therefore urged to take extreme care while the freezing conditions continue and, if they deteriorate as forecast, not to make journeys unless they are essential.
Meanwhile with heaters turned up across the country, it has been revealed that the UK has the equivalent of just
eight days
worth of gas usage left in storage, as a back up against potential problems with traditional gas supplies. Because of the particularly cold start to 2010, and a problem with an offshore supplier, the National Grid issued an emergency Gas Balancing Alert on Monday, which is triggered when gas demand outstrips supply. This was only the second time the operator has done this, the first time was in 2006. The alert tells big gas users, such as power plants, to curb demand. Big generators, such as E.On, have both gas-fired and coal-fired power stations and can choose to switch between the two.
According to the Institution of Civil Engineers (ICE), the situation highlights the UK's dependency on imported gas. "To avoid energy crises and price hikes in the future the UK energy sector must urgently build extra gas storage capacity into the network. We simply cannot continue to rely on unpredictable overseas supplies," said Tom Foulkes, director general of ICE.
The vast majority of UK utility companies are now owned by foreign parent companies which are perhaps not as "loyal" to the UK market as a UK owner would be. So much for
Thatcherism
. If we had built all the wind farms that had been applied for we would have 10% of the country renewable and safe, as well as reduced emissions. We are around 1.5% at the moment, because around the country
Tory
,
Labour
and
LibDem
councils have stopped them.
The Highways Agency has responsibility for the M4 and the A34, and the link to their traffic information is
here
Advice is:
- preparing yourself and your vehicle should you need to make any journeys - having warm clothes, food, plenty of de-icer etc for any trips. And have a shovel just in case.
- considering whether you can make it in to work tomorrow – can you work at home, perhaps taking work home today just in case.
- checking the conditions before you attempt to leave your home. If in doubt leave it a while to see if the situation improves.