met office
bbc weather
The Met Office said the forecast snow could be the biggest single fall since the notorious winter of
1962-63
. A blizzard left drifts six metres deep which blocked roads and rail routes, left villages cut off and brought down power lines. Thanks to further falls and almost continual near-freezing temperatures, snow was still deep on the ground across much of the country three months later!
Cyclist David Joel travels on the frozen River Thames at
Windsor
while traffic is at a standstill on the bridge behind
January was the month when even the sea froze (out to half a mile from the shore at Herne Bay), the Thames froze right across in places, and ice floes appeared on the river at Tower Bridge. Everywhere birds literally dropped off their perches - killed by the cold and lack of natural food. That was probably the coldest winter since 1795.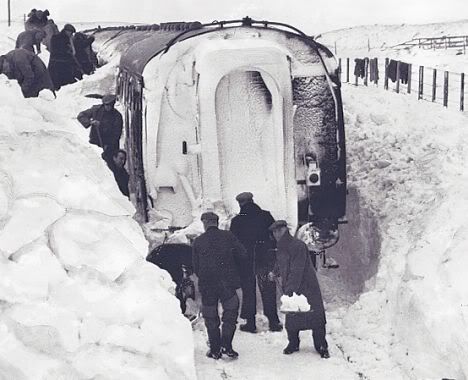 Digging out a stranded train near Grantown-on-Spey (near Inverness).
Despite temperatures in December which were half the average for that month in the UK, the country experienced another warm year which was 0.6C above the long term average. So there is
'No conflict'
between Big Freeze and climate change.
Britain is facing its worst harvest for at least 40 years as 30 per cent of the country's grain lies in waterlogged or sodden ground. Farmers will have to salvage what is left of their crops by using heavy machinery on wet fields. European Union
rules
ban farmers from using combine harvesters on wet land to protect soil quality. Those who flout the ban can be prosecuted.
The harvest has been most badly affected in the North East, especially Northumberland, North Yorkshire and Co Durham, where the heavy rainfall and flooding have meant that on many farms less than 50 per cent of the wheat has been harvested.
Tom Neill's in Northumberland, near the Scottish Border, said: "I am 64 and this is the worst harvest I've experienced in my 50 years of farming. I am not certain even if we get permission to use our machinery on wet fields whether I will be able to salvage half of my crop. Unless we get a dry spell it will be too late. It's very depressing and I could lose as much as £20,000 or £30,000."
Guy Gagen from the National Farmers' Union said: "This is the most difficult harvest for at least 40 years. Farmers say it compares to 1968, which was very similar, with heavy rain throughout the summer. We just need a break in the weather. If we get that for five to seven days farmers can recover."