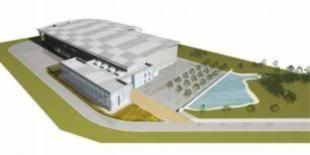 Pic from thisisHampshire.net
Letter to:
Planning Department (Attn Mr C. Inwards)
West Berkshire Council, Council Offices, Market Street, Newbury, RG14 5LD
Planning Application 09/02396/COMIND
Enriched Uranium Facility, AWE Aldermaston
I would like to object to the planning application for a new Enriched Uranium Facility at the Atomic Weapons Establishment Aldermaston on the following grounds:
Information about the risks to public safety and the environment posed by the new facility has not been disclosed to the public or the Council.
No consultation with the general public took place before the planning application was submitted.
The new facility is unsustainable and will produce radioactive wastes for which there is as yet no safe disposal route.
Construction of this major development will lead to noise, disturbance, and increased traffic volumes.
I should be grateful if you would bring these concerns to the attention of the Planning Committee .
Further information on each of these points is included in a
briefing available at
www.aldermaston.net
Twitter updates at http://twitter.com/stoppegasus
www.nuclearinfo.org
Nuclear Information Service (NIS), has branded the project a waste of money which, they claim, sends out a signal that the UK intends to develop a new generation of warheads.
Peter Burt, NIS director, said the facility is: "a white elephant legacy of the Bush and Blair years which is no longer needed to support the UK's nuclear weapons programme.