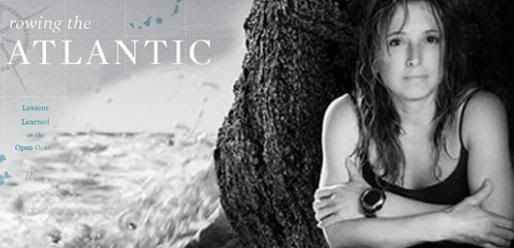 Roz Savage is a British ocean rower, author, motivational speaker and environmental campaigner. She has rowed solo across the Atlantic Ocean and is attempting to become the first woman to row solo across the Pacific.
The famous female solo rower,
Roz Savage,
commenced her second leg of rowing across the Pacific Ocean all alone, with no support boat, no re-supply and totally dependent upon her inner strength and positive attitude to overcome the many difficulties of such an arduous journey.
A few years ago Roz left her job in the business world to follow her vision and dreams of doing something to call attention to various environmental causes and to make her mark in history as being the first woman to row solo across both the Atlantic and the Pacific oceans.
Roz accomplished the Atlantic journey first amidst all types of hardships and equipment malfunctions right down to breaking all of her wooden oars. Her custom designed row boat is totally self-contained with all of her life support systems, communications, and various electronic guidance equipment.
waytogogreen
Ros on youtube
book
Ros Blog