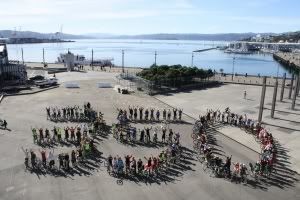 On October 24th, Greenpeace and 350.org with a broad coalition of groups will participate in an international day of action. Events are already planned in over 100 countries around the world. Some are big, some are small; but every single one of them is absolutely necessary. Including yours…
Join the rest of the world on October 24th by hosting or attending an event in your community!
Science clearly tells us that only dramatic action can prevent global warming and its catastrophic impacts -- and the world is looking to President Obama to lead the way. Scientists say that if industrialized countries like the US reduce their global warming pollution by 25-40% (below 1990 levels) in the next decade, we may still be able to pass on a safe climate to our children. But time is running out.
350 is the number that leading scientists say is the safe upper limit for carbon dioxide—measured in "Parts Per Million" in our atmosphere. 350 PPM—it's the number humanity needs to get back to as soon as possible to avoid runaway climate change.
The President of the Maldives, for example, is holding an underwater protest.
the big blow in London
In Oxford theres a march starting at 11am, with
entertainment
Aldershot, Hampshire are having a Bricks and Bread Sustainable Living Centre co2 awareness day - Event to help people understand about co2 with demonstrations of easy ways to reduce carbon emissions.
There's Tree planting in Chippenham, Wilts.
map of ations
greenpeace
350.org